Plant Based, Zero Waste Sneakers
Standard industry laces are made of cotton, nylon, polyester or a mix of the above.
For Nooch we managed to source a 100% organic cotton lace that will do the job of keeping your sneakers on your feet.
Sidenote; Finding the laces was actually a piece of vegan cake. But the lace tips were the real problem…
No worries, though, we conquered that challenge too.
While you might not need new shoes tomorrow, we do need your support today.

Only when we reach the milestone of 500 orders will production kickstart

Why? Because we refuse to contribute to fast fashion's unsold, wasted goods pile.
Noochies take about 12-14 weeks to craft, so do the wise thing and plan ahead.
SHOP NOW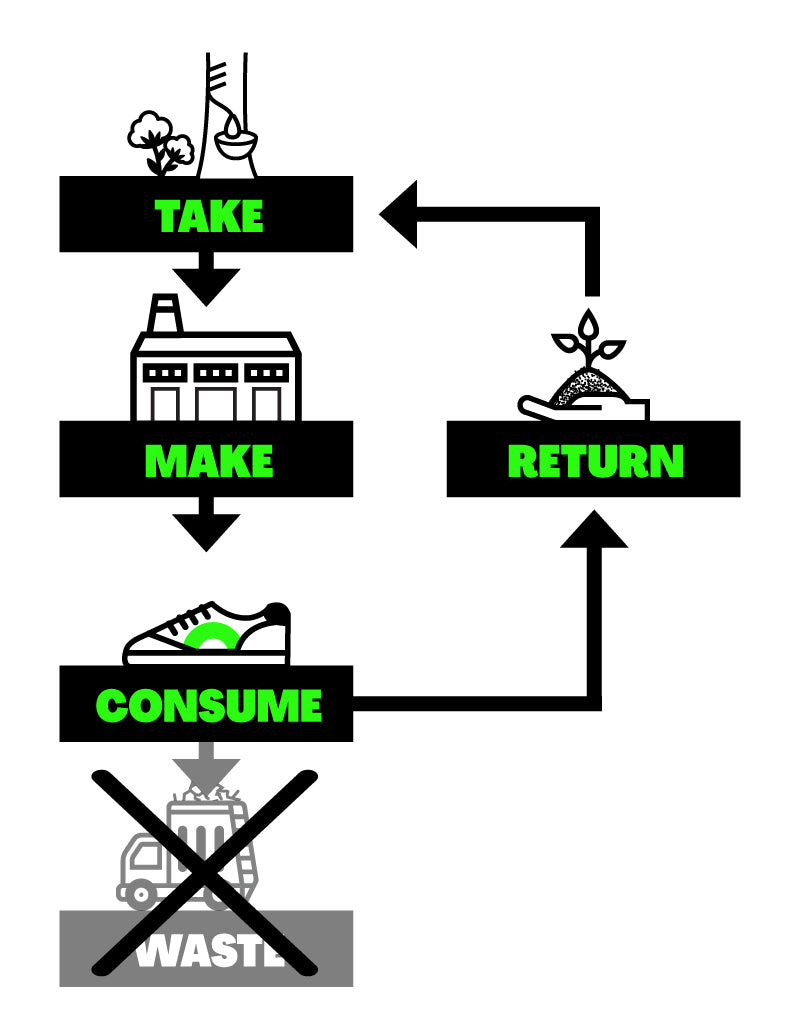 Recycling Alone Won't Solve. We're setting a new standard.
Crafted with the circle of life in mind, our sneakers are made from 100% plant-based, harm-free materials, designed to be compost-ready 🌱
When their journey ends, let your Noochies nourish the soil, not the landfill 🌍
And no, they won't biodegrade on your feet while wearing them. We promise.
Compostable shoes that are also beautiful, that's what the world and I need. :-)
Marit, Wapenveld, NL, Size 40

Shoes that are fair and won't ruin our world for a change!
Marthe, NL, Size 39
Because they're just f**king awesome! The 269 high black's are all mine! And OF COURSE, I ordered them right away because there's NOTHING I want more than a world where fast fashion, animal cruelty, child labor, unfairness, and polluting the earth no longer exist. I really hope that everyone can see that you can vote with your wallet by buying these shoes. It is of incredible importance to support pioneers like you in bringing about a true shift in the system.
Esther, Arnhem, NL, Size 38
They look amazing, and I want to wear clothing that is better for the world.
Lykle, Peize, NL, Size 43

Zero waste and chemical free sneakers, that's good for people and the planet
Jessica CH, Size 39

Buying a pair of Nooch shoes is voting with your feet - voting for a more sustainable, fairer, and animal-friendly system!
Jan-Willem, Groningen, NL, Size 43

A shoe that is completely plastic free not only recyclable
Daniela, NL, Size 37
Because I really want pioneers for a more sustainable and fairer world to never stop innovating and always be able to think big.
Because we need people like Lottes and Stefans in this world!
Because I hope that with the further development of Nooch, the product becomes affordable for everyone.
Because with Nooch on your feet, you always move in the right direction.
Because an honest product feels so much better.
Because they're just really awesome shoes.
Ruth, Groningen, NL, Size 38
These shoes are a step towards a more sustainable world!
Joris, Nijmegen, NL, Size 45

Cool new shoe sustainable start-up that's thinking outside the current shoe box ;)
Yvonne, IRL, Size 6